I've been pondering about what I can do for my fans. I spend endless hours creating high contrast Charcoal Paintings. (Yes paintings, I have a unique style that if I told you about, well you get the hint…..)
Anyways, I spend what seems to be a ton of hours with my creations. But I only sell one Original.
I do sell prints. When I moved into my new studio at the Adams County Arts Council, I was very fortunate to have Bert Danielson from Gunnar Galleries, next door in the studio beside me. Bert is a photographer, a framer and a printer of art. Bert is right next door which makes it very convenient when I complete an original Charcoal Painting. He digitizes it so I can make prints, which is good because he is the printer so he knows what he's looking for. Hold up, I'm getting off track here. My point is, I get all my prints professionally printed. The quality is out of this world. I will get to that in just a moment.
So, I stepped my game up and get all this fancy new stuff done. Ok. Welcome to the art world. But I like to stand out from the crowd. I wanted to be able to offer my collectors and fans, something they would foam at the mouth over. So, I had Bert print me out a full size print of my Tinkerbell Drawing. I experimented with hand coloring select parts of the drawing.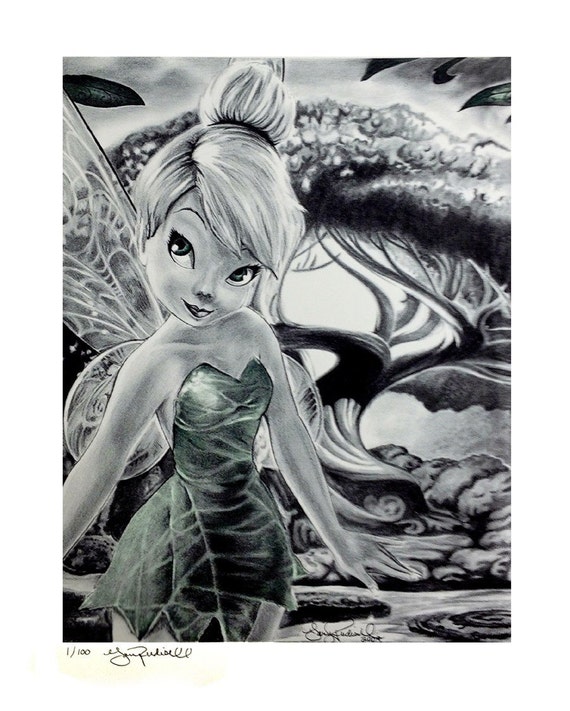 Now let me tell you how awesome the quality is on these prints. I caught myself steering my drawing hand as if I was drawing and shading on an original. The quality is that good that I notice on the Tinkerbell (which was done in graphite) the scratch marks I made with the pencil on the original. So I ask Bert how long these prints last. His answer, at least 50 Years. These prints are on High Quality Acid Free Archival Artist Paper. They look pretty damn nice if I must say so.
So to keep on track, the hand coloring was a success. It not only looks great, but it holds up terrific without smearing or smudging.
Now, I can, not only offer Limited Edition Prints but I am offering Limited Edition Custom Prints that in their own sense are originals.
So to test market my new idea. I have an exhibit scheduled in Boonsboro Maryland on October 26, 2013, yep this Saturday at Gifts Inn Boonsboro. There I will be featuring my newest works, "The Ice Queen", "The Other World" and "Whisper – The Cliffs of Moher", along with ARTIST PROOFS PRINTS of "Windsong", "Shameless Metaphor", "Ice Queen", "The Other World", "Fairy Dust" and never before seen "Dark Hedges" (Which was SOLD very early and was never on display) …..Oh I was telling you about test my new prints with hand coloring. Let me do that……
There are 8 fabulous ladies that work at Gifts Inn Boonsboro who work behind the scenes and in the store, that I am giving the only ARTISTS PROOFS Prints of "The Other World" Matted and hand colored with their favorite color. (Signed and numbered, Matted and sealed)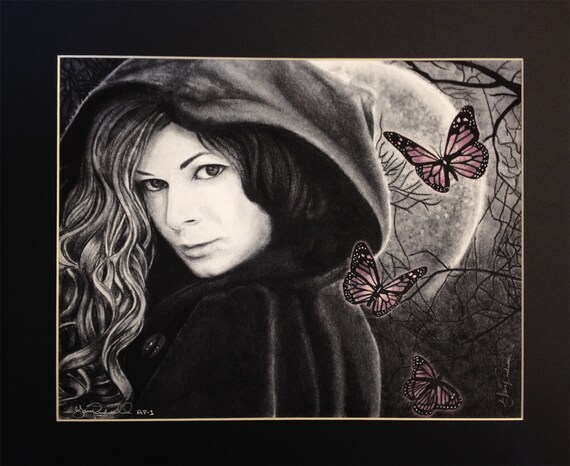 Now I have not only a ton of new ideas for upcoming paintings but a buffet of execution ideas for the coloring on the prints.
I sell my prints in my Etsy Store as well as Custom Paintings. They are the same price as you can get at the Gifts Inn Boonsboro. My prints are all price the same across the board and the country. I insist on that. None of the stores I sell in or will sell in are allow to under cut the other and I don't under cut on my Etsy Stores.
So if you want to check out my Etsy Store… here is THE LINK CLICK HERE
Also for all you FACEBOOKERS, LIKE me on Facebook CLICK HERE
Tweet at me on Twitter CLICK HERE
and don't forget….To share the Love and tell your friends about me 🙂